PTTStar LLC
Our new IDAS Multi-Trunk (MT) radio network is a diamond ring of trunked AND networked radio sites strategically placed to provide seamless service across the entire greater Los Angeles area (see service map below). "What's the deal?", you ask.
Here's what:
If you're a radio dealer, we'd love to talk to you about what we can do for you-- Click HERE for information.

If you are in Southern California, or are otherwise interested in PTTSTar, you get:
Roaming
Built-in vote-scan automatically seeks and finds the best radio site for you, locks on to it, then re-scans continuously to ensure great system performance
Your new Icom radio is fully networked with no action on your part: no selector switches, no changing channels, it's automatic and just plain simple
Quality
100% digital just like your cell phone where the voice message is digital from end-to-end and never returns to analog until your ears hear the speaker on the receiving radio, computer or WiFi device
We have the best facility-based WiFi handheld Icom radios (with zero airtime cost) that work over your own 2.4 GHz WiFi; they network to our IDAS MT system for excellent indoor service (Really!)
Features
Our new Icom IDAS MT system is a 2-way Land Mobile Radio (LMR) system's wildest dream of possibilities. A few of the benefits:
We can transport any short-form specialized data from end-to-end, for example MAGCONX provides credit card processing-- the uses are limitless
GPS is built into most of the new radios: fleet tracking is here!
Icom supports a really nifty nationwide PTT service via a private LTE network designed and built by AT&T to serve ONLY Icom users; we call this www.PTTSTAR.com and of course it networks to and from our IDAS MT system
What LTE Means for You
Office to jobsite, job-to-job, talk directly to your vehicles, personnel and SUBS
Stop paying to use employee cell phones
Group Calling allows One to MANY and One-to-ALL calling (no extra charge)
Coverage area (stripes show third party service):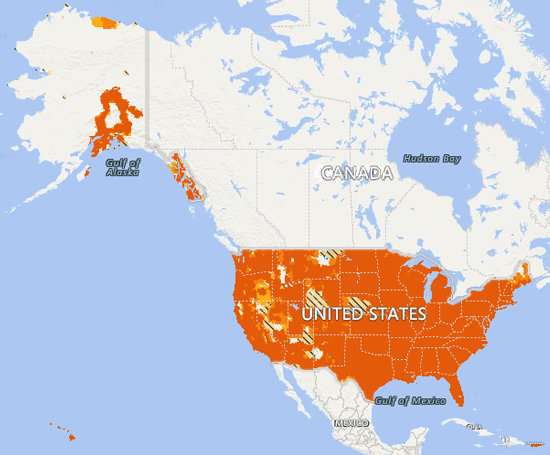 Best For Last
Very competitive pricing, with low cost local service or wide area performance, whatever you need. Our NOC in Torrance can switch features quickly over-the-air on request, no more reprogramming or service calls just to upgrade.
The points of the Push-To-Talk STAR are:
Land Mobile Radio (LMR) 2-way radio with coverage in the map highlighted area below
Facility based LAN/ WAN Ethernet carried WiFi radios with no monthly costs network into the star topography
LTE Nationwide private digital PTT service from upper Mexico to lower Canada and all 50 states for a flat monthly rate; handhelf and monile
Satellite PTT service from Iridium via the new SAT-100 handset and base station (indoor) units as well provide for 100% disaster preparedness service
Using the super router the VE-PG4 from Icom you can network in to your IP based telephone switch for access to 200 SIP based telephones too